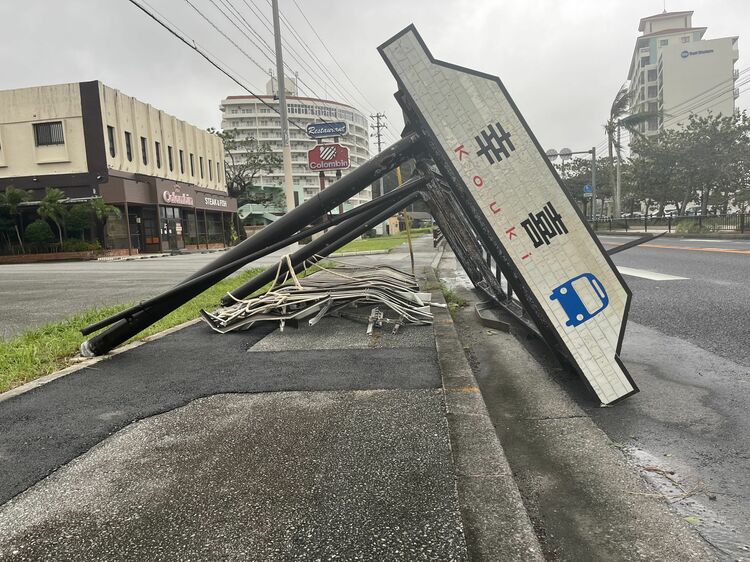 Two storm areas (areas with strong winds of 25 m/s or more) from July 31 to August 9, 2011.
As a result, 30% of the entire Okinawa area lost power.
Of course, airplanes could not fly and many travelers were stranded.
After the typhoon passed, we dived on the 10th, but the clarity of the sea was 3m at the shore point and 10m at the boat diving point on the next day.
About Typhoons in Okinawa
Okinawa is in the path of typhoons Typhoons born in the southern ocean move around the Pacific High, so they usually change their course from northwest to northeast around Okinawa. At this time, typhoons over warmer waters stay longer because they are stronger and larger, and they move more slowly around bends. Many typhoons change their course from northwest to northeast near Okinawa, but they often stay around Okinawa for a long time because the speed of the typhoon often slows down around the bend. Such typhoons have a great impact on Okinawa. In addition, the waters around Okinawa are warmer than those on the mainland, which is another reason why typhoons approach Okinawa with stronger force.
When will the typhoon hit?
| | | | | | | | | | | | | | |
| --- | --- | --- | --- | --- | --- | --- | --- | --- | --- | --- | --- | --- | --- |
| Year | Jan | Feb | Mar | Apr | May | Jun | Jul | Aug | Sep | Oct | Nov | Dec | Yearly |
| 2023 | | | | | 1 | 2 | | 1 | | | | | |
| 2022 | | | | | | | 3 | 2 | 4 | | | | |
| 2021 | | | | 1 | | 1 | 1 | 3 | 1 | | | | |
| 2020 | | | | | | | 4 | 2 | 1 | | | | |
| 2019 | | | | | | 1 | 1 | 3 | 2 | 1 | | | |
| 2018 | | | | | | 2 | 4 | 4 | 2 | 1 | 1 | | |
| 2017 | | | | | | | 3 | 1 | 1 | 2 | | | |
Japan Meteorological Agency